SPIRIT OF HELEN AWARDS
PREVIOUS WINNERS
2015 – Dave Cunningham
And the 2015 Spirit of Helen Award goes to Dave Cunningham of FAVA in Edmonton. Dave's nominator notes that "Dave is a rarity in the arts world, remains un-jaded and an optimistic 'yes' man". In the last 4 years he has grown FAVA into a vitalized and stable arts organization that is also growing exceptional filmmakers and excelling as an organization.
Helen Folkmann, for whom the award is named after, and Dave worked together before she died in 2004. Dave exemplifies what a strong impact she made and he will continue to bring this spirited media art influence to Albertans. A Helen Folkmann retrospective was screened during the awards night.
2014 – Vicki Chau
The 2014 recipient was announced at the AMAAS Symposium called "Magic in the Dark" showcased at the Art Gallery of Alberta in Edmonton. Vicki is a Calgary-based programmer, curator and enthusiastic supporter of all things media art.
2013 – Eva Colmers
The 2013 Spirit of Helen recipient was announced at the AMAAS "Play" Conference in Waterton. Eva is an Edmonton-based filmmaker and community mentor.
2012 – Chad Saunders
The 2012 Spirit of Helen recipient was announced at the IMAA/AAMI Source Conference at the Banff Centre for the Arts. Chad Saunders is a former CJSW Station Manager and all round community spirited guy.
2011 – Marsh Murphy
On June 25th, the provincial media arts community announced the 2011 recipient of the Spirit of Helen Award: Marsh Murphy, Executive Director of Edmonton's Metro Cinema. The jury acknowledged Marsh's passion for his community, writing, "He contributes greatly to media artists and organizations in Edmonton by giving them a platform through his work at Metro Cinema.  Marsh's word and actions come with significant integrity, and he is a tireless and influential arts advocate."
2010 – Ted Kerr
Edmonton born Ted Kerr is an artist, writer, and organizer. He was a founding member of Exposure: Edmonton's Queer Arts and Culture Festival, and an Artist in Red at HIV Edmonton. For three years he was a columnist for Queermonton in Vue Weekly, and served as a community programmer with Metro Cinema. He was responsible for programs such as "Jarman Does Edmonton", and "Wars We Dress Up For."  Kerr is a graduate of the Riggio Writing and Democracy Program at The New School ('13), and works with Visual AIDS, an organization that utilizes art to remind the world that AIDS is not over.
2009 – Melody Jacobson
Melody Jacobson is a champion of the arts; she received AMAAS's Spirit of Helen Award in 2009 for her dedication to advocating and enriching Albertan Arts & Culture.  She was the past Operations/ Programming Coordinator for the Calgary Society of Independent Filmmakers and worked with the New Gallery before that.  Her dedication to supporting the community as a whole, through her organizational work, as well as board service with many different organizations on provincial and national levels is unmatchable, and made her a very deserving candidate for this award.
2008 – Sharon Adams
Sharon Adams was the winner of the Spirit of Helen Award in 2008.  She was recognized for her contributions to the Calgary Arts community through her work with Quickdraw Animation Society, her creation of the Youth Animation Project, a program for community action through animation, as well as her dedication to AMAAS and the broader arts community.
2007 – Sheryle Carlson
Sheryle is a Canadian filmmaker who engages in issues surrounding corporate/governmental responsibility, environmental sustainability, and social justice.
Her filmmaking and art focuses on communicating ideas, facts and ideals often obscured or hidden by an onslaught of mass culture and the homogenization of consumerist tendencies that limit diversity and in some cases, free thinking. For C, art is activism.
She was recently working with the Alternative Information Center in Palestine (alternativenews.org), then as associate director at Sierra Club Prairie in Canada, and is now currently doing her masters in Human Ecology: Power, Culture and Sustainability in Sweden.
2006 – Sandi Somers
Sandi Somers is a filmmaker and video artist whose work has been featured in art galleries across North America and festivals around the world.  She was acknowledged with the Spirit of Helen Award in 2006 for her hard work in the community through board service with several Calgary organizations and her work with Herland, feminist film & video festival.
2005 – Grant Poier
Grant Poier is an interdisciplinary artist living and working in Calgary since the mid seventies. He grew up in Saskatchewan and graduated from the Alberta College of Art (& Design) in 1980. Poier has also been intensively involved in the local/national arts community as a writer, curator, mentor and catalyst. He has served on many Boards, juries, programming panels and advisory committees. He was a co-founder in 1979, long-time administrator, and later, president and director, of EMMEDIA, an artist-run electronic media arts access and programming centre in Calgary and played a large role in the founding of the Alberta Media Arts Alliance Society.  He was also involved in several other broad-based community cultural development initiatives, including: working as the artist-director of YOMAM.CO (youth making art making community), a pilot project that was launched in 1998 by East Calgary Youth Art Projects to collaborate with youth and communities at risk. He is active in his home community of Bridgeland-Riverside, and is a founding member (2001) and co-chair of Labour and The Arts (the art-action committee of the Calgary & District Labour Council that launched Calgary?s first MAYworks Festival of Community Solidarity/Culture in 2003). He is also a founding member of the coalition behind the Activista Social Club enterprise, lending creative skills/strategies in working for social change.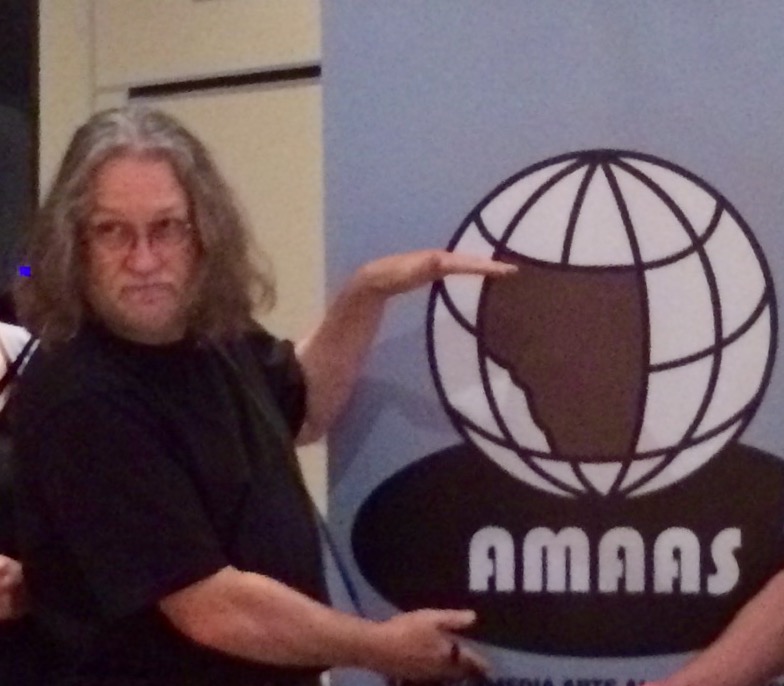 MISSION
AMAAS exists to advocate, educate, and celebrate the media arts in Alberta.
VISION
The media arts in Alberta is advanced through the generation of awareness, strengthening of connections, and continuous advocacy. AMAAS builds a sustainable and vibrant future for media arts in Alberta.