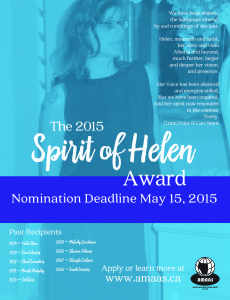 The Spirit of Helen Award is a biennale cash award presented in honour of Helen Folkmann, an artist and arts advocate who passed away in 2004. Her creativity, activism, strength and determination inspired and continues to inspire people across Canada, and this award acknowledges an artist, cultural worker or advocate whose contributions to Alberta's media arts community reflects Helen's remarkable spirit.
This award is open to all artists and cultural workers in Alberta. Individuals or organizations associated with the Alberta Media Arts community may nominate one candidate per year. Nominations are reviewed by an anonymous peer jury and must be received by May 15, 2017. Please include a biography of your nominee (max. one page) and a statement indicating why you are nominating this individual (max. one page). Candidates may not self-nominate and current AMAAS Board and Staff are ineligible for the Spirit of Helen Award.
Recipients are awarded $2000 and celebrated at the biennale AMAAS conference.
Award: $2,000 cash award. The award will be presented at the biennale conference to be held in Canmore June 2017. The successful nominee or representative should be available to attend. Please submit your nomination form and attachments below through our online form, or print this page and send to AMAAS Executive Director, Sharon Stevens by mail to: #212, 223 12 Ave SW Calgary AB T2R 0G9.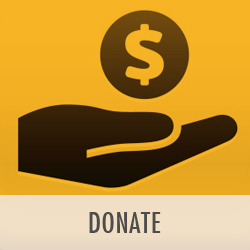 Interested in sponsoring or donating to the Spirit of Helen Award? email admin@amaas.ca or donate a contribution via PayPal